FULLY CUSTOM HOUSE PLANS
Building your own home can be a daunting task full of confusion and uncertainty. Sometimes it seems like you only have two options: look through thousands of house plans online that aren't quite right or contract an expensive architect for custom plans. 
What if we told you there was a third option? A sweet spot. We are here to partner with you through the process to make it as painless and affordable as possible.
Design Essentials ($1.50 / Conditioned SF)*

➣ 2X 60min Interactive Online Design Sessions

➣ Full Set of Construction Drawings (PDF & CAD)

Titlesheet & Construction Notes
Foundation Plan & Details
Floor Plans
Roof Plan
Reflected Ceiling Plans (with Plumbing & Electrical)
Finish Plans (Flooring & Cabinetry Elevations)
Exterior Elevations
Building Sections
Framing Details

------------------------

*($2,500 minimum)

View Sample Drawings

Ultimate Design ($2.00 / Conditioned SF)*

➣ 3X Interactive 60min Online Design Sessions

➣ Full Set of Construction Drawings (PDF & CAD)

Titlesheet & Construction Notes
Foundation Plan & Details
Floor Plans
Roof Plan
Reflected Ceiling Plans (with Plumbing & Electrical)
Finish Plans (Flooring & Cabinetry Elevations)
Exterior Elevations
Building Sections
Framing Details

------------------------

➣ 3X Realistic Exterior Renders (View Sample)

➣ 2 Min. Walkthrough Video (View Sample)

➣ 3D Interactive Tour (View Sample)
CUSTOM DESIGN PROCESS: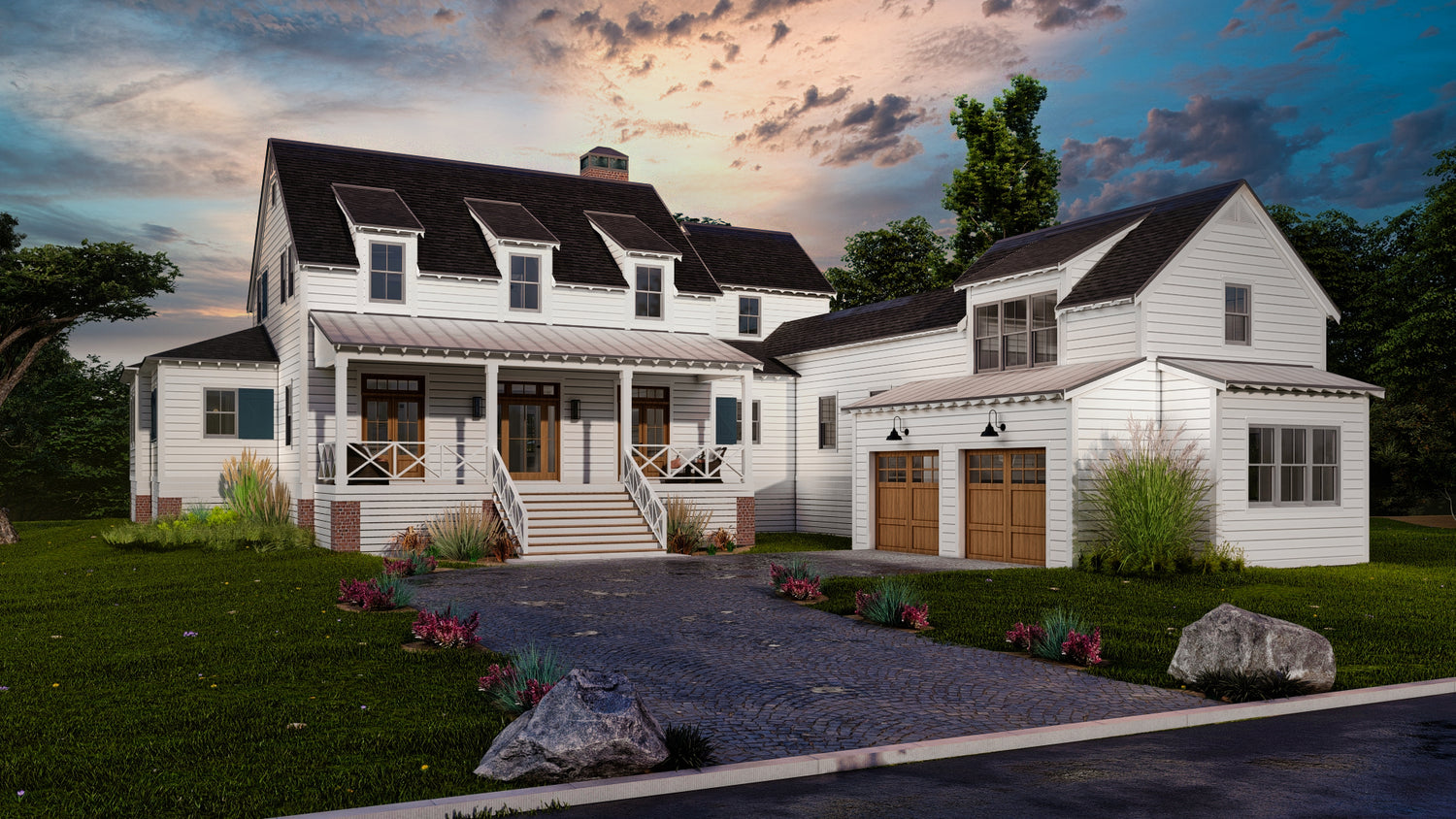 Free Introductory Phone Call:

We'll connect for a free 15-30min call where you can share where you are in the process and exactly what you are looking for. If you choose to proceed we will forward a contract and invoice for the 50% down payment.

This is the time to share any of your inspiration or desires:

Hand Sketches, Lot Dimensional Constraints, HOA Requirements, Example Plans, Real Estate Listings, Pinterest Boards, etc. 
Concept Plan

It typically takes us about 5 working days to put together a first draft of your house plans which we will share with you via e-mail.

Subsequent drafts are returned within 2 working days. Once you've reviewed, we will have a live online session to make real-time edits based on your feedback.
50% Design

After the first session we will deliver you a 50% design set to review before session 2 which is all about refining the design. During all sessions 2 we will show you your home live in 3D as we compare different design options for you to visualize. 
90% Design

After session 2, we will deliver the 90% drawing set for you to make final comments before we wrap up the design process.
Rendering & Finishes

If you've chosen the Ultimate Design Package, a third session is focused on materials and visuals. You get to watch us walk through the live render of the house as we swap between different material options.

If you aren't ready to sign off on the home design then don't worry! We can always accommodate extra design sessions at cost.
Deliverables: Final Drawings & Visuals

After you've signed off on the 90% design we will complete the construction drawings and visualizations within 1 working day.  (Note: we release the final deliverables upon final 50% payment). You now have home construction drawings that are ready for Engineering & Permit. 
GET STARTED DESIGNING YOUR DREAM HOME
Schedule an introductory phone call below or email us at Hello@BoutiqueHomePlans.com to learn more.
Flexible Scheduling

Plan design review sessions on your schedule. We are open 6 days a week 7am-7pm EST.​

Customer Focused

We go above and beyond to deliver your dream on schedule, on budget.

Unbeatable Speed

We're ready to start as soon as you are! All plan revisions delivered within 2 working days. Get what you need faster than the competition.
HOME DESIGN F.A.Q.
What does a session consist of?

It's a scheduled 60 minute screen-share.

You should come prepared with feedback (specific or general) that you want to work through. It's your hour so you can direct how you want to spend it.

Our designer will be ready with the 3D model of your home and will actively make some changes live on screen so you can compare and contrast options. (Some changes may be too time consuming so we will take note of them and complete them afterwards). Feel free to ask questions anytime. Our designer can use their experience to help improve your ideas and ensure that they're all code compatible, affordable and easily constructable!

Some examples of feedback & edits:

- Room layouts

- Ceiling heights

- Stair layouts

- Roof pitches, eaves, and layouts

- Move / flip doors & windows

- Exterior materials

- Furniture fit/layout

- Lighting layout

- Porches & patios

- Exterior design details
How soon can I schedule the review sessions?

Once you've received the first draft, we'll contact you with a calendar invite to choose what times work best for you and your family. It can be as soon as the next day or whenever you have availability.

We operate 7am-7pm (EST) Monday-Saturday so there's plenty of choice and flexibility to suit your schedule.
How far apart are the sessions scheduled?

It's up to you! Some people schedule them each the next day and have their plans done in less than 2 weeks, while others like to digest their ideas more and schedule them months apart. It really depends on your pace and when you're looking to build.

We recommend a nice balanced weekly schedule so you have your custom house plans in a month but get enough time to think through your feedback between each session.
What happens if I want to make edits after the process is complete?

No problem! This occasionally happens for a few reason:

1. Land zoning / building permit review requires site specific adjustments

2. Forgot something or thought about changing something after the fact

3. Bids come in too far over budget and need to simplify the design.

Additional changes to the finalized drawing set can be accommodated at $100/hr. If you choose not to use our services, you will have access to the CAD files which can be taken to any drafter for modifications.
What Code & Engineering is Included?

Note that plans will be delivered conforming prescriptively to the current year International Residential Code (IRC) which is the most widely adopted building code nationwide.

Note:

-We do not size beams.

-We do not create framing plans.

-We do not create braced wall diagrams.

In many cases these are not required but your jurisdiction or lumber yard may require any of these. We always recommend hiring a local structural engineer. We are happy to provide resources on finding one affordably and will collaborate with them to get their beam sizing added to the plans where necessary.
How does shipping work?

Our plans are all digital files, delivered electronically within 2 working days of our final design session.

If necessary we can help arrange to have plan sets printed for mail delivery. ($40/set)
Do you accept returns?

Our custom plans offer 2-3 iterative design sessions for you to provide any feedback to get exactly what you want.

For this reason we cannot offer returns or credit for our custom home design services. All custom plan sales are final even if you decide not to build.
When will my card be charged?

We require 50% (estimated) upfront and the final 50% (actual) before delivery of the final construction documents.
What's Not Included?

1.) Anything not shown on the construction documents is not part of the scope of any of the packages.

For example: We will show some things in the model for the purpose of visualization (furniture, landscaping, topography, interior finishes, trim profiles, etc.) but we do not change these because they are not part of the construction documents.

2.) Site plans. We don't design site plans but we can point you in the direction of a few options that are very affordable.

3.) Engineering. Due to the site specific nature of engineering, we design our custom plans to the International Residential Code (IRC) but your location or design may need addition engineering by a locally licensed structural engineer. We are happy to provide resources for finding and hiring an engineer (if needed) and will coordinate with them by sharing CAD or 3D models as needed.

4.) Architectural stamps. If your location requires an Architect's stamp we are happy to provide resources for finding and hiring an one to affordably provide the final review and stamp.
Can I get the 3D model of the house plan?

Yes! We work in Autodesk Revit but will not release the 3D Revit file because our format is proprietary. But we are happy to export the model to any compatible format (3D DWG, Sketchup, IFC, etc.)
I have a Barndominium Project

We can help layout the interiors of your barndominium and help you visualize the extire project with our more affordable Barndominium Layout Service.
I have additional questions.